An Innovative, Magical Potter

By ROBERT YELLIN
for The Japan Times, March 10, 2001
Meiji Era craftsmen lived in a world of divergent influences: Galle glass, French bronzes, Art Nouveau designs, Chinese celadons and tenmoku tea bowls, as well as their own traditions, whose product was at the crossroads between being an industrial export or the aesthetic vision of the individual artist.
Exposure of ceramic art at international expos, such as the one in Paris in 1900, changed the way the government viewed the ceramic world. It concluded that antiquated designs couldn't match the new Art Nouveau motifs that were winning praise in Europe. Works by two highly individual potters, Seifu Yohei III and Kozan Miyagawa I, were praised and awarded prizes there. That acclaim set the wheel in motion, allowing a potter to shed his industrial logic and begin to shape a whole other world: that of the studio potter.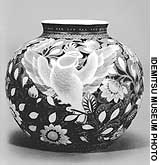 A vase with
under-glaze design of
parrots and flowers

These Meiji potters were taught the importance of individual design as well as form from these overseas influences, and the government started to accept their works for official exhibitions beginning in Taisho 2 (1913) with the Noten, a design and applied arts exhibition sponsored by the Ministry of Agriculture and Commerce.

Exhibitions like the Bunten, an art exhibition sponsored by the Education Ministry, held in Meiji 40 (1907), had refused to even take a glance at a potter's efforts. The Noten was a big step and gave a boost of confidence to these aspiring ceramic artists. The crowning glory for them came sometime later, in Showa 2 (1927), when a fine craft division was established at the Teiten, the Imperial Exhibition.

Itaya Hazan (1872-1963) was a key figure in the success of this ceramic triumph. A sweeping look at his career is on at the Idemitsu Museum in Tokyo until April 1, 2001.

Itaya was a gentleman and a dandy, noble and suave -- it is easily seen in the many photos of him in the Idemitsu exhibition. One of his apprentices said that he always liked to walk behind Itaya so he could get a whiff of his fancy cologne. He was born in Ibaraki Prefecture near Tsukuba mountain and took his artistic name Hazan (wavy mountain) from there.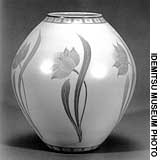 A vase with tulips design

Starting in Meiji 22 (1889), Itaya trained as a sculptor under Koun Takamura and Tenshin Okakura at the Tokyo Art School (now Tokyo National University of Fine Arts and Music, or Geidai). The exhibition has a photo of him at that school, as well as his graduation work. This sculptural training was to be a large influence on his future works in ceramics.

He became a teacher at the sculpture department of the Ishikawa Prefectural Industrial School. After it was forced to close in Meiji 31 (1898), he switched to ceramics.

Walking into the large Idemitsu gallery, one is met by an Itaya masterpiece: a large flower vase that is awash with movement and color. It depicts a parrot in pastel greens and pinks, perched on a branch that proceeds to sweep out around the spherical form. The influence of Japonisme is clearly seen in the use of space and design.

The piece appears soft, with the pastel colors reminiscent of a child's nursery. The craftsmanship is the epitome of what a skilled hand can do. Hazan meticulously carved the porcelain body, his sculptural background showing, and then added his famous hokosaiji underglaze.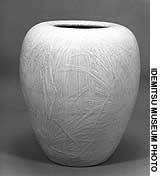 A vase with
hemp-palm design

On a recent NHK Sunday morning art program that focused on this exhibition, Idemitsu curator Masaaki Arakawa showed notebooks full of Itaya's formulas and calculations on how he made this magical glaze. The only problem is, no one can decipher them, and only one contemporary potter, Shimada Fumio, comes close to reproducing it. Look carefully at this piece and you'll notice that Itaya also carved in arabesque designs on the navy blue areas -- a nice, subtle accent.

Another fine piece is a large white porcelain (hakuji) vase with an abstract incised underglaze relief of a hemp palm. The leaves crisscross over the milky white body and show Itaya's fine sense of balance and line.

That wasn't so with all the works, though. Some were too stylized, and his kinuta-shaped vases with the same pastel colors were a mismatch for this particular form. This stoic shape was done to perfection in Song Period Chinese celadons, and these vases represented a noble, but not so successful attempt by Itaya to pay honor to them, especially the ones with tulip-shaped mouths. He was just following fashion, for a large amount of Song Period wares were discovered and caught the attention of Europe as well as Japan.


Keep an eye out for one splendid piece in the middle of the room: a hokosaiji jar with a tulip design. On this piece Itaya makes more usage of ma (space), which is a welcome sight after seeing almost every inch of his pots in the first room covered with some sort of design.

The last room shows some tea utensils and the famous white smock he always wore like a technician. In a sense, that is what he was. He only allowed about 1,000 works to pass into history and is said to have smashed enough pots to make a small mountain in his backyard.

In 1954, he became the first potter to be given the Order of Cultural Merit (Bunka Kunsho).

Itaya Hazan's refined senses, superbly crafted works and groundbreaking successes raised the prestige of the Japanese potter. For that, this great ceramic nation has placed him with the potting legends of ages past.

The Idemitsu Museum is located on the ninth floor of the Teigeki Building, next to the Teikoku Theater in Hibiya, not far from the Imperial Hotel. Admission is 500 yen.

The Japan Times: March 10, 2001
(C) All rights reserved
.