Kohyama Yasuhisa Exhibition
Takashimaya, Nihonbashi, Tokyo
April 10 to April 16, 2002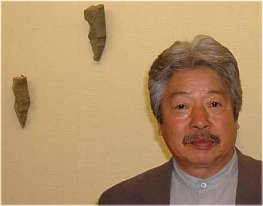 On my large wooden desk is a small sake cup by Kohyama Yasuhisa (see above photo of artist). The cup is rather tall for a sake cup, standing about seven centimeters high. The color is subdued, gray with subtle shifts in hues across its body. It has a stem for holding (a bajo-hai, known as a "riding a horse" form) and an open-faced mouth with a thin rough lip. A small crack is on the lip and in the mikomi (pool). There's not much else that can be said superficially about it.

Yet, in that simplicity of form, in those restrained colors, in the acceptance of imperfection, and in the unaffected way it shapes my space, I find a great depth well beyond its size; I see a mirror of the potter's soul, and I hear a respectful song to Japan's ceramic heritage. In short, Kohyama has imbued this sake cup with a living spirit.

It brings to mind a Sueki-style sake cup of the Kamakura period (1192-1336) that I also have; it too possesses the same spirit. In a way they are distant cousins.

Keeping a tradition alive and fresh like that is not easy for any contemporary Japanese ceramic artist. No other Shigaraki artist, in my humble opinion, does it with the flair and diversity of Kohyama. His larger works, which speak of the wind, canyons, and mountains, would look equally at home in a traditional Japanese tokonoma (alcove) or a marbled penthouse in London. To have that spirit in form, whatever the size, cross borders with such ease is a testament to the integrity and vision of Kohyama. Ceramic art is indeed universal.

May we all refresh our hearts and senses with Kohyama Yasuhisa's new works; just like the sake cup on my desk does for me.


---

The short essay that you just read above appears in the exhibition catalog for Kohyama Yasuhisa's Tokyo exhibition, which was held from April 10 to April 16, 2002, at Takashimaya Department Store in Tokyo's Nihonbashi District. I was very honored that Kohyama asked me to write something for his major Tokyo exhibition. It was translated into Japanese, and that also appears in the catalog along with an essay by Susan Jefferies, who is the assistant curator of contemporary ceramics at the Gardiner Museum of Ceramic Art in Toronto. Later this year Kohyama will be having an exhibition there, as well as in Boston.

I went to the opening day of the Tokyo exhibition and found the usually stuffy gallery to be quite different in ambience; tall pedestals were placed here and there on top of which sat Kohyama's splendid Shigaraki works.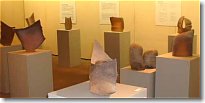 Such a small change gave the room a wider feel and also more of a gallery atmosphere instead of "just another room in a large department store." Of course, he also utilized the standard counter tops for his smaller works and also had some hanging vases along the walls.

Although the forms haven't changed that much over the years, their impact is still quite fresh. He did introduce some new smaller forms that were modern Jomon-style wares.

They were fired only once giving them a light orangey tone. I thought they looked good as a group but would be rather lonely if placed all alone.

That was not the case for all the smaller works. His gray-curving arch pieces command attention even though some are only about fifteen centimeters tall.

And the pleasing shapes of his sake flasks, they look like turtles, begged to be picked up (see below photo).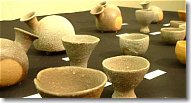 A larger form I particularly enjoyed was his "owl form," with its one side chuck full of stones and the other side having a very dry brittle look (see below).

I love the way he works the clay into showing such different personalities (again see below).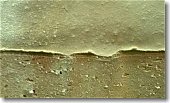 The curling objets with their dark, silent, and mysterious inner caves were also a highlight of the exhibition (see below two photos).
The room was full when I arrived (see photo below) and some flower arrangements were being done by Ingrid Luders.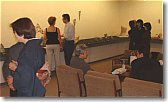 As is the case with most Japanese pottery, they really come to life when food, flowers, or sake, is placed within them. Of course Kohyama's work stands alone quite well, yet there was a charm added when a small arrangement was placed within.
The famed ceramic photographer Tanaka Gakuji stopped by while I was there.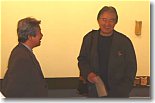 It was a delight to see so many of Kohyama's works in one setting and I hope you enjoy the virtual exhibition that I have offered here.

Another article of mine about Kohyama (one that appeared in the Japan Times) can be found here.