LEARN MORE
Critique of
LNT System
by Aoyama Wahei




More than 40 styles
Over 200 Images




Yellin's gallery
sells pieces from
the kilns of Japan's
finest potters


Click here for
More Photo Tours
Living National Treasures
(as of August 2005)
The designation of certain potters as Important Intangible Cultural Properties, more commonly known as Living National Treasures, began in 1955. In the beginning it honored potters who were greatly responsible for revitalizing traditions. This first batch of potters were truly deserving of the designation. Their respective styles and the success of those working in those styles today owe almost everything to these grand potters; Arakawa, Kaneshige, and Miwa to name a few. Of course, there were potters who never received the award or a few who politely refused -- Kawai Kanjiro, Rosanjin, and Kato Tokuro come to mind.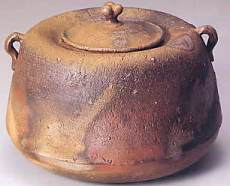 As time went on many of the first LNT's apprentices became the next batch of LNT and the selection process got political -- not based on merit alone. I propose that the system be put on hold for a few years so that the true meaning of a LNT comes into clay again. For as important as tradition is, it's not something that is selected in governmental offices like it is today -- the traditions, like Bizen, are just put on hold. The late Bizen potter Kaneshige Michiaki (1934-1995) said of tradition:
Tradition is sometimes confused with transmission. Copying Momoyama pieces is transmission. Producing contemporary pieces incorporating Momoyama period techniques is tradition. Tradition consists of retaining transmitted forms and techniques in one's mind when producing a contemporary piece. Tradition is always changing. A mere copy of an old piece has not changed; it is nearly the same as its prototype of four hundred years ago. Tradition consists of creating something new with what one has inherited.
In any case, the LNT is held in deep reverence here in Japan and let's hope the next ones can live up to the meaning and bring something fresh and exciting into the diverse world of Japanese pottery.


List of Ceramists Honored as
Living National Treasures (as of August 2004)

Style

Work

Year Designated

Tomimoto Kenkichi
1886-1963

1955

Ishiguro Munemaru
1893-1968

Hamada Shoji
1894-1978

Arakawa Toyozo
1894-1985

Kaneshige Toyo
1896-1967

1956

Kato Hajime
1900-1968

1961

Fujiwara Kei
1899-1983

1970

Miwa Kyuwa (Kyusetsu X)
1895-1981

Nakazato Muan
(Taroemon XII)
1895-1985

1976

Kondo Yuzo
1902-1985

underglaze
blue cobalt
(sometsuke)

1977

Tsukamoto Kaiji
1912-1990

1983

Miwa Kyusetsu Xl
1910-

Shimizu Uichi
1926-2004

1985

Kinjo Jiro
1912-

Tamura Koichi
1918-1987

1986

Fujimoto Yoshimichi
1919-1992

Yamamoto Toshu
1906-1994

1987

Imaizumi Imaemon XIII
1926 - 2001

1989

Matsui Kosei
1927 - 2003

1993

Suzuki Osamu (Kura)
1934 -

1994

Kato Takuo
1917 -

1995

Inoue Manji
1929 -

Fujiwara Yu
1932 - 2001

1996

Shimaoka Tatsuzo
1919 -

Miura Koheiji
1933 -

1997

Tokuda Yasokichi III
1933 -

Yamada Jozan III
1924 -

1998

Sakaida Kakiemon XIV
1934 -

2001

Yoshita Minori
1932 -

2001

Ito Sekisui V
1941 -

Mumyo-yaki
wares made
with red ocher
clay from
Sadogashima Island

2003

Isezaki Jun
1936 -

Bizen
ware

2004

Hara Kiyoshi
1936 -

iron glaze
(tetsu-yu)

2005
LEARN MORE
Click here to see another photo tour of award winning Japanese ceramists, those who have received the highest awards of the Japan Ceramic Society. Nearly 80 artists and their work are presented.

Award Winners. Click here for a comprehensive review of awards in Japan, plus hundreds of photos.