Jeff Shapiro -- Exhibition Review


Jeff Shapiro (center) and Mr.Toyoike
Very few foreign potters come over to Japan to exhibit although I imagine many desire to. First obstacle is the cost of getting all the pieces here and then there's the fact that Japan has hundreds of exhibitions each week. To widen the distance is the fact that not many Japanese collectors are really that interested in the work of gaijin (foreigners). On top of that, it's just too risky for the potter and most galleries. I've seen a few potters come exhibit and most leave thrilled with the experience, yet quite disappointed with the results. The trade-off appeases the potter but leaves the gallery questioning any future association with potters from beyond these shores.

Jeff Shapiro seems to have overcome all hurdles and has done quite well with his exhibits in Japan which date back to the early nineties. He was back in Japan for a three-show run in Tokyo, Numazu, and Osaka during November 2000.

It helps that Shapiro speaks Japanese quite well and also that he studied pottery here for many years. But that alone isn't enough, for no matter how eloquent one can speak any language it's the work that does most of the talking. There is a common bond between some of Japan's yakishime (high-fired natural ash-glaze) and Shapiro's; he fires an anagama in upper state New York and many Japanese are quite taken aback when told that Shapiro's work isn't Bizen or Tamba, but all one hundred percent US of A kneaded, formed, and fired. Of course the inspiration for much of his style comes from Japan and not less so from Shapiro's heart as well.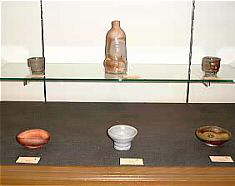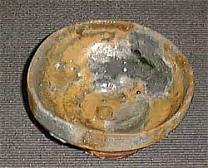 The fall season here in Japan means good food and great sake. Many galleries host shuki or sake utensil exhibitions and that was the theme of Shapiro's Tokyo exhibit. It's quite evident to any collector here if a potter actually drinks sake or not just by looking at their shuki; Shapiro falls into the category of an experienced sake imbiber who knows his shuki.

The small sake cups are like miniature chawan and all the aspects, lip, form, balance, and foot, must harmonize to make the perfect guinomi. Shapiro is close, real close. He is in tune with his materials and his kiln and the effects he achieves are quite stunning. Great reds and browns with drips from his kiln's ceiling; a mixing of clays to bring a dynamic face to his hand-held clay jewels; and a keen sense of balance and form. Most Japanese use small plates (ko-zara) with their shuki to place some tidbits on to go along with the sake, Shapiro exhibited some fine ko-zara as well in Tokyo.



In Numazu the focus was on some larger pieces such as plates, vases, mizusashi and sculptures. Numazu isn't a hotbed for art exhibits but Shapiro's exhibit was well-received and all of the shokki(tablewares) sold out as did all of the smaller pieces. The work fits the temperament of the Japanese table with it's natural coloring and rich tsuchi-aji or clay flavor. Shapiro also gave a well-received talk in the Le Mani gallery in his more than proficient Japanese and was the toast of the town for his few nights spent there.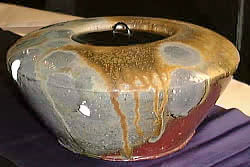 The Osaka exhibition was the only one I didn't attend but the buzz was also positive there as well.

Shapiro will be back in Japan for he now has a loyal following who enjoy using and living with his work, myself being one.
Robert Yellin