ARTIST TSUJIMURA KAI
Exhibition of His Ceramic Work
and Virtual Online Tour
From Oct. 17 to Dec. 17, 2003
Open weekdays 11:00 am to 5:00 pm
By appointment only Sat., Sun.,
and National Holidays

WHERE
Robert Yellin Yakimono Gallery
3-2-18 Omiya-cho, Mishima-shi
Shizuoka Japan 411-0035
Int'l Telephone: (81) 559-91-5388
Domestic Telephone: 0559-91-5388
Click here for map and contact info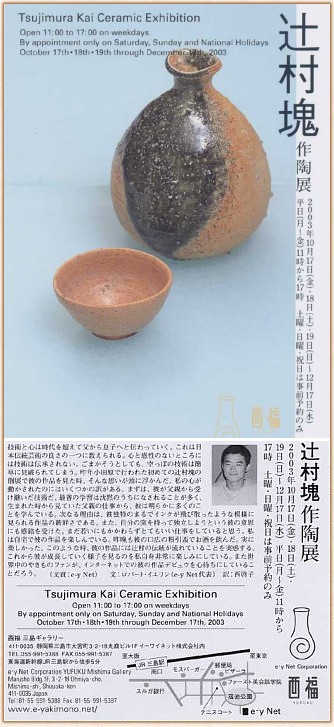 ABOUT TSUJIMURA KAI. Techniques and spirits pass from father to son down through and across generations. This is one of the great strengths of Japanese art. It is not so much to inherit technique if the spirit and sense are lacking. Empty technique is easily seen and no amount of posturing can disguise it. I thought about these things the first time I saw Tsujimura Kai's work last year at his debut exhibition in Odawara. His work moved me for a few reasons. First, the connection to the techniques he learned from his father. Obviously, much was learned by just observing his father (Tsujimura Shiro; see links below) from the time he was born; they say the best lessons are often silent ones. Next was the freshness in his work, such as his ink splashes, that he can call his own. I was also impressed by his will to build his own kiln and establish himself. He has done so brilliantly I believe, even though he's still quite young. I have enjoyed using his works at home---last night I drank sake from his open-faced kohiki hai; delightful!---and I find his ceramic art to have spirit in the Tsujimura tradition. I very much look forward to seeing how he develops over the years and I know that many collectors worldwide are waiting for his world debut via the Internet.