Article for WINDS Magazine
Story by Robert Yellin

It's not an easy task to try to capture the horizon, be it where sky meets land or sea, on porcelain, but that's just the daunting task that Kyoto-based ceramic artist Fukami Sueharu has set for himself.
"I first became interested in the horizon when I was in my early thirties. I was climbing Daiyozaki mountain pass in Mie Prefecture and the view just made my heart tremble. I was deeply moved and knew it was the feeling I wanted to capture in my work, a feeling of majestic awe," he said.

Fukami has chosen to work in a ceramic medium that is the epitome of perfection - sleek, lucid, jewel-like bluish white porcelain, or seihakuji in Japanese, has captured the hearts of ceramic lovers ever since the Chinese perfected it in the Song dynasty, that is during the 11th-12th centuries and what is known as Jingdezhen wares. Those wares, along with Song-period celadons, are considered relatively unknown highlights in the history of human artistic endeavours. The third Ashikaga shogun, Yoshimitsu (1358-1408) promoted trade with China and he himself fancied Chinese wares very much.

The Japanese ruling classes and Buddhist temples of that time were fascinated with these expensive imported wares and showed them off like proud parents. Fondness for bluish white porcelain, however, took a downward turn after the tea masters of the 16th century, notably Sen no Rikyu, turned away from opulence and embraced the native stonewares of the Japanese countryside. Bluish white porcelain in Japan has never really recovered its high status until sometime in the last thirty years when a mini-revival, thanks to the late Living National Treasure Kaiji Tsukamoto and Fukami, took root again.

Fukami comes from a potting family and had his hands in clay from a very early age. "My family was production potters making Chinese styles, so I grew up in the heart of cultural Kyoto looking at Chinese style wares," Fukami told me.

Fukami is a perfectionist, a maestro of clay, and finds the challenges of porcelain best suited to his temperament. "Porcelain shows any marks left by the potter's hand and I want to leave the least amount of evidence that my hands ever touched the clay. Instead of the potter's obvious imprint I want to leave the subtle mark of my heart or spirituality," Fukami said.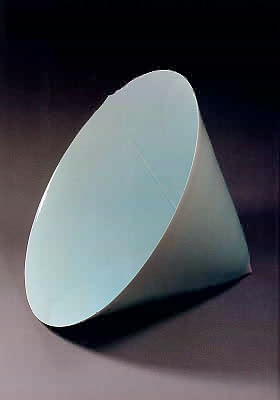 Most potters want the traces of their hands to show on the work, their signature so to speak, but with Fukami the powerful refinement of his forms speaks for itself. His works run in shades of aquamarines and soft greens and the sharp edges and curving lines bring to mind the edge of samurai swords or the graceful lines of a manta ray. Some of his pieces are conical while others are flat and round with a thin white line breaking the blue silence. Others are vertical tower-like forms that stand almost two meters high. The interplay of light and dark on the shiny surface brings to mind the sun's rays illuminating the moon or the emerging light of dawn against a darkened sky.

The pieces are cool to the touch of the eye and accentuated with ridges, reliefs, small notches, and a fine sense of line that points the viewers sight to the heavens. Quite often the work is placed on specially made wood bases which give the light feeling of the upper portion a needed balance.

To inspire the imagination of his viewers beyond merely looking, Fukami has poetically titled his pieces with names such as "Pure Thought," or "A Glint of Light and a Gust of Wind," or "A Mental Image of a Distant Landscape" -- names which comfortably match his graceful and dramatic forms.

These are forms that are completely new and fresh to the world of bluish white porcelain where imitation is the best most potters can hope for.

Imitation has its own merits and is highly valued in the orient, but what makes art truly vital is the power to speak to the present age; copies of past triumphs rarely uplift the sprit like something original, not the case with Fukami.

Fukami achieved his 'bringing the sky and sea down to ceramic size' at a relatively young age. From the ages of 27 to 38 he entered his work in many juried exhibitions and won 28 prizes including six grand prizes that include the Chunichi International Ceramics Exhibition and the International Ceramic Exhibition at Faenza. His work is in the collections of countless museums throughout the world and his resume looks like that of an elder statesman of art.

This 52 year-old charming gentleman states, "When I was younger I was very impressed with sculpture and often had my heart pounding when I saw sculpture exhibitions. I wanted to go beyond the tradition I had grown up with and try to create my own tradition- something I could call my own- those sculptural forms helped me to see the possibility of my art."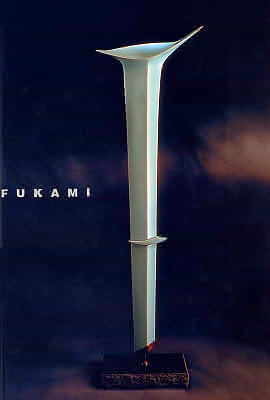 The process of creating ones own world and having it perfect isn't easy and Fukami had to invent his own method. Believe it or not a simple bicycle pump is a key component of his forming style. Fukami's doesn't form his work on a potters wheel but uses a technique known as slip casting. He first casts his work in a plaster of paris mold and then pumps liquid clay under high pressure into the mold. The bicycle pump is used to evacuate the brownish pudding-like clay from a small hole where a straw has been inserted. After drying the work he then goes about relentlessly carving it with various hard edged tungalloy tools. Some of the edges on his works are razor thin, just a millimeter or two. To glaze each piece he uses an air compressor, this allows for an evenly applied finish. All in all, each piece takes three months to complete and he fires only one at a time, it's no wonder that there's a waiting list from fans around the world.

The shapes that Fukami pursues could be made with no other way- the lateral edges and curving lines could not have been made in a traditional way; as a matter of fact, Fukami's workshop looks nothing like a pottery but more like a mechanics workshop.

These are not tea bowls or mere eating vessels modeled on Chinese prototypes, Fukami's azure porcelain framed world is like a window looking into the limitless possibilities of the creative mind.

Viewers of his work can be heard muttering superlatives to themselves at his exhibitions, they are overwhelmed with the fluidity and elegance of his forms. Take for instance the curving lines of his 'Sky in the Distance series. The complete harmony that the edges and plane create are quite ancient and at the same time a breath of fresh air to the ceramic world and its collectors.

And that's the brilliance of Fukami; he has breathed new life and expanded the horizons of bluish white porcelain. And in doing so he has taken the viewer along for the glorious view of where his breathtaking forms meet the sky and sea; he has indeed captured the horizon.
Robert Yellin, Article for WINDS
LEARN MORE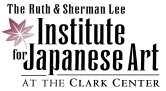 Genesis of a Genius:
The Early Ceramics of Fukami Sueharu
FROM: April 1 to June 28, 2003
WHERE: The Ruth & Sherman Lee Institute
for Japanese Art at The Clark Center
Porcelain Horizons, Modern Monoliths
Japan Times Story, Aug. 31, 2005