Museum of Modern Ceramic Art, Gifu Prefecture
4-2-5, Higashi-machi, Tajimi-shi, Gifu-ken 507-0801
TEL: 0572-28-3100 FAX: 0572-28-3101
10:00am to 18:00pm (Visitors admitted until 17:30)
Closed Monday; also closed December 27 thru January 4
(and closed Tuesday when preceding Monday is national holiday)
Japan, most likely, has the largest number of ceramic museums in the world. There are some incredibly fine museums dotted throughout the land both large and small. Some are devoted to a single potter while others cover one style or region. There are many that fall somewhere in between as well.

Recently a new ceramic museum opened in Tajimi City (Gifu Prefecture) as part of the large Ceramic Park complex just a short drive from Tajimi Station and down the road from the Gifu Prefectural Ceramic Museum. In the Ceramic Park is the wonderful Museum of Modern Ceramic Art, which I recently visited.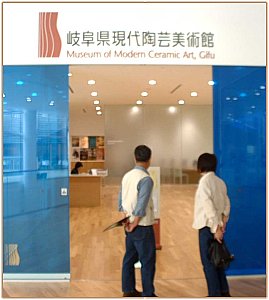 Entrance to museum
The museum is: "focused on the theme of modern ceramic arts. The museum collects modern and contemporary ceramic works from within Japan and around the world. The museum's goal is to hold a variety of exhibitions in the future. In order to promote a new culture of ceramics, the museum also plans to collect and exhibit utilitarian ceramics, an area overlooked by most other museums, as well as industrial ceramics from the realm of modern design."

The museum, which opened Oct. 12, 2002, is set in the side of a hill. It was designed by famed architect Arata Isozaki, and is possibly one of the finest ceramic museums in the world. Natural lighting, large rooms intermixed with smaller galleries, and fine Belgian-made display cases create the perfect ambiance for enjoying the treasures on show. And there are many.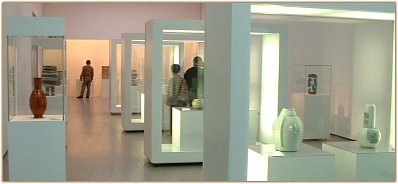 Belgian-made display cases
Before one gets to see any of them, though, a walk through a long ceramic tunnel must be taken. The tunnel is covered with shards and they look as if they might fall off at any moment -- it does appear quite shoddy. This would be my only complaint about the place.

The building, as mentioned, is set in the side of a hill and is all below ground. I descended two floors before reaching the Mino exhibition. A lovely cascade of water flows outside and creates a most delightful and refreshing scene.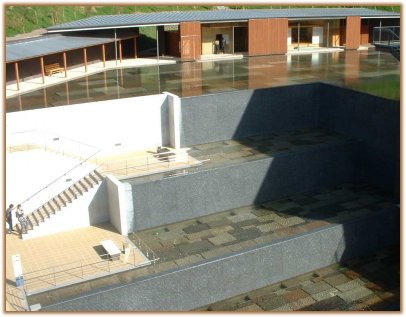 Water scene outside the new museum
There is the one museum and a large exhibition hall called Oribe Square. Until November 4, Oribe Square offered a look at selected and award-winning works from the Mino International Ceramic Competition. The setting was a spacious hall with subdued lighting and the first works were from the Ceramics Design section, from which I couldn't get out fast enough (see photo of black and white cups below). The Ceramic Arts section was a highlight, though, of my visit to the park.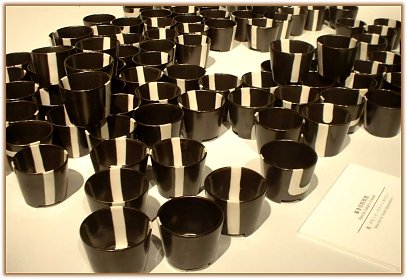 Black & White Cups
Prize winner, Mino International Ceramic Competition
Over 130,000 people walked through the Mino Exhibition within 24 days! Entries were received from 57 countries for a total of 2,049 submitted works for both divisions, with only 233 being selected. Nishida Jun won the Grand Prize in the Ceramic Arts section (see below photo). Judges included Kaneko Kenji, Kato Kozo, Fukami Sueharu and Janet Mansfield out of a total of fourteen judges.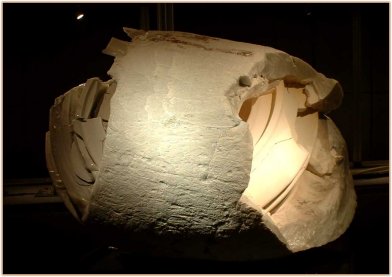 Grand Prize went to artist Nishida Jun for the above piece
Mino International Ceramic Competition
Other award winners at the Mino Exhibition can be viewed here:
www.icfmino.com/en/exhibition/6th.html

The other exhibit is "The Legacy of Modern Ceramic Art -- Part 1: From Artisan to Artist, The Evolution of Japanese Ceramic Art"
On until January 19, 2003, this exhibit is a must for any ceramics enthusiast wanting to see the shift from large Meiji wares, made for export, to subdued tea wares, and then on into avant-garde Modernism that started in the 1950s. A virtual who's who of the last 100 years of Japanese ceramics -- with the notable exception of Tokuro Kato and Rosanjin Kitaoji -- the exhibition winds gracefully from room to room. Magnificent. Highlights include some fine and rarely seen large Meiji Era porcelains, a Kenkichi Tomimoto masterpiece of a jar in overglaze gold and silver, Mineo Okabe's mystical celadon, a rare look at Kazuo Yagi's groundbreaking "The Walk of Mr. Zamza (1954)," and a broad scan of modern sculptured forms including Yasuhara Kimei, Tsuji Shindo, Kamoda Shoji, Kumakura Junkichi, Koie Ryoji, Kakurezaki Ryuichi and Akiyama Yo; the list goes on. There are Tea forms as well from most of the known greats and I was pleasantly surprised to encounter a Bizen chawan made by Harada Shuroku.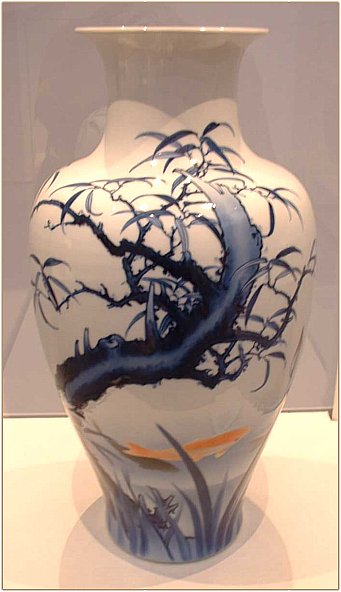 Meiji-era porcelain vase by Kato Tomotaro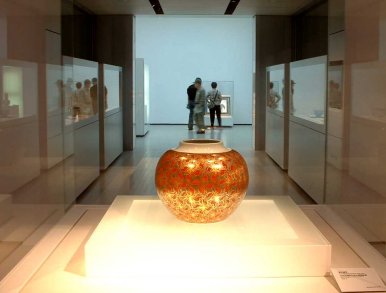 Tomimoto Kenkichi masterpiece - jar in overglaze gold and silver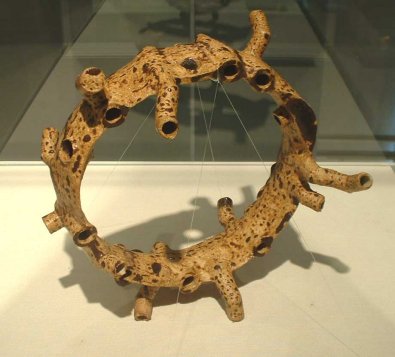 Yagi Kazuo's groundbreaking "The Walk of Mr. Zamza" (1954)

Piece by Tsuji Shindo

Bizen chawan made by Harada Shuroku
What was also quite intriguing about the display was one could view a work, like the Harada chawan shown above, while gazing down into the gallery a floor below.

A fine bilingual catalog is available showing all 305 works in color -- the last two in the catalog by Mihara Ken ! This catalog is available for online purchase at our sister site, www.japanesepotterybooks.com:
Click here to order the Bilingual Catalog
The Ceramic Park's Web site in English can be viewed at:
www. cpm-gifu.jp/museum/english/

Other Scenes from the Museum and Oribe Square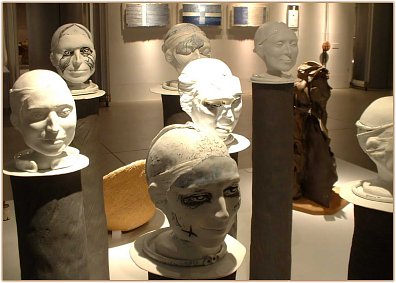 Heads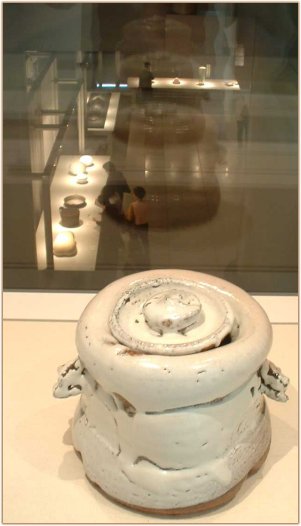 Mizusashi by Miwa Kyusetsu (LNT)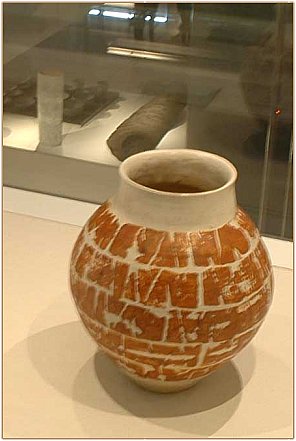 Ishiguro Munemaro-- Tsubo (jar)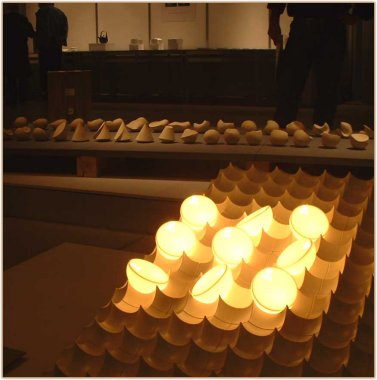 Lights work in first museum room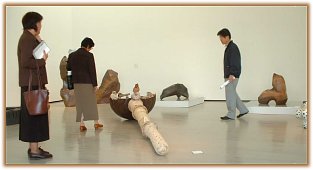 Room Scene -- works by Takiguchi Kazuo, Kaneta Masanao, others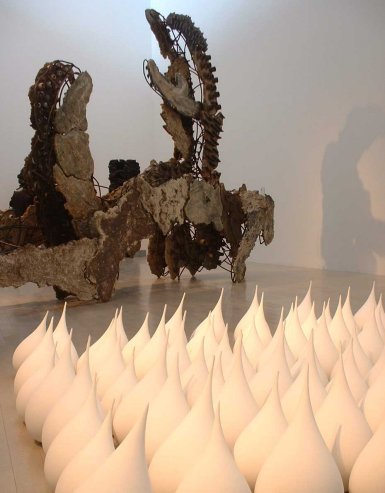 Background piece by Saito Toshiju, foreground by Itabashi Hiromi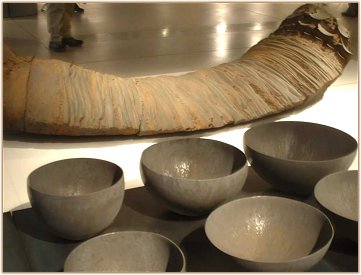 Background piece by Akiyama Yo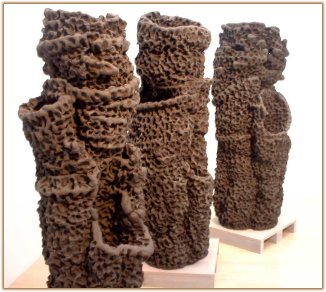 Pieces by Hoshino Satoru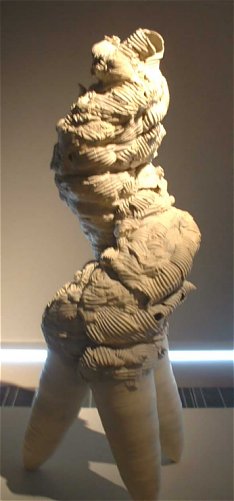 Tall sculpture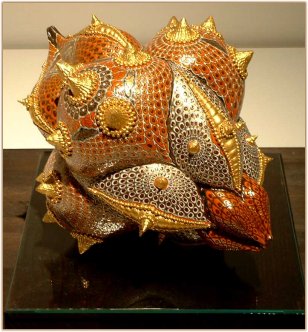 Ornate piece by Tomita Mikiko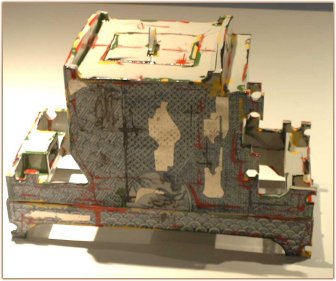 Ornate Arita-style Mizusashi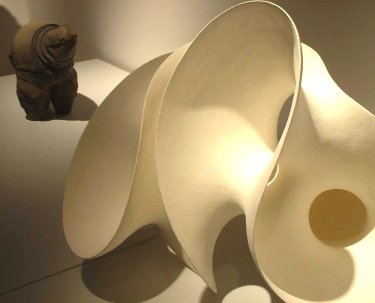 White Flowers - Sculptural Rendition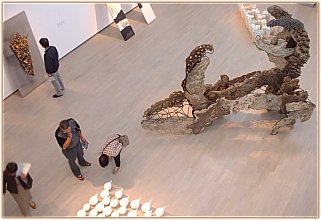 View from above - large piece by Saito Toshiju
See the Who's Who Page
to learn about the above artists.