KOTO YAKI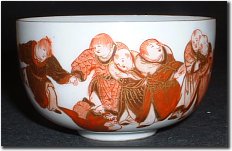 Here's a ceramic riddle for you. What obscure style of Japanese porcelain from the late Edo-Meiji Period can look almost identical to Kutani wares but can also mirror Imari blue and white? Before I give the answer, I'd also like to add that this "maboroshi" style also had works in Aka-e, Kyo-yaki, Oribe, Ninsei, and Seto styles (see Guidebook for styles primer). Maboroshi, by the way, means "phantom" -- in the sense that it was here and vanished, becoming rare and treasured.

Need a hint? OK. The name in Japanese means "East of the Lake" and was made on the edge of Japan's largest freshwater lake, Biwa Ko (Biwa Lake).

Give up? The answer is Koto-yaki.

In the 1998 catalog The Grace and Workmanship of Porcelain: Unfolding Developments in Japan, I could find only one paragraph about Koto-yaki. It reads:
Koto wares were ceramic products made in and around Hikone Castle of Ominokuni (Shiga Prefecture). The first kiln is said to have been the Kinuya kiln (in the castle town of Hikone), which started operation around 1829. In 1842 it fell under the protection of the Hikone clan as a clan-operated kiln and its size was expanded and techniques were improved. The aim was to produce high-class ceramic products. It was Ii Naosuke, the 13th lord of the Hikone clan, who was the most eager to produce ceramics. (More about the Ii clan can be found by doing a web search for Hikone on Google.) He invited potters from all over Japan and summoned painters such as Kosai and Meiho from Kyoto, thus trying to improve the wares. However, Ii was killed by assassins outside of the Sakurada Gate in 1860, and thereafter Koto wares lost the protection of the clan. It then turned into a privately owned kiln, known as the Yamaguchi kiln, and continued in operation until 1895. Many superior works were made, such as Aka-e kinsai, blue and white porcelain, and a wide variety of other wares such as celadon, and copies of Ko-Kutani, Oribe, and Ninsei.
That is all of the translation from the exhibition catalog from the Aichi Prefectural Ceramic Museum and the Seto Folk Musuem, nor does much else exist in other reference materials. Today Koto wares are highly valued and good ones hardly ever come on the market.

I'd like to share some images of Koto-yaki as a reference source for those who might be interested in Japan's porcelain traditions. Please enjoy the tour.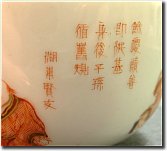 Above three photos of same piece


Above three photos of same piece