Select Style
Agano
Asahi
Bizen
Celadon
Echizen
Hagi
Ido
Iga
Irabo
Jomon
Karatsu
Kohiki
Koto-Yaki
Kyo-yaki
- Kenzan
- Ninsei
Mashiko
Mingei
Mino
- Ki-Seto
- Oribe
- Setoguro
- Shino
Mishima
Mumyoi
Neriage
Ohi-yaki
Porcelain
- Arita
- Hakuji
- Hizen
- Imari
- Iro-e Jiki
- Kakiemon
- Kinrande
- Koto-yaki
- Kutani
- Ko Kutani
- Markings
- Nabeshima
- Seihakuji
- Sometsuke
- Trademarks
Raku-yaki
Sansai
Seto
Shigaraki
Shodai-yaki
Takatori
Tamba
Tenmoku
Tokoname
Yakishime
Yayoi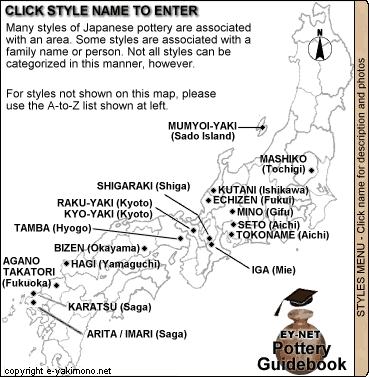 Although you don't need to know much about Japanese pottery to enjoy using it, there is a fascinating culture just below the surface (regional styles, histories, influence from China and Korea, and much more).

There are several "schools" of Japanese pottery, all of which are focused on a region and the nature of the clay that is found there. There are six main schools, or kilns, in Japan, some dating back to the twelfth century. These schools and their modern-day locations are:

There are others areas as well, like Karatsu from Saga, and Hagi from Yamaguchi, Iga from Mie, Mino from Gifu (including Shino, Oribe, Setoguro, and Ki-Seto), and Kyo-yaki, a Kyoto style that came about with the Edo-Period (1603 - 1867) lifestyle.



The six main schools are called "rokkouyo" in Japanese. The term "rokkouyo" is out of date and in a sense not true. At least 77 other ancient kiln sites belonging to the Sue tradition (5th to 12th centuries) have been discovered, leaving the "six old kiln" theory in the shard pile. The theory's lingering presence really reflects the current popularity of the six schools while excluding other wonderful medieval styles such as Iga.

Each ceramic style has its own special qualities and characteristic appearances, although there is some overlap. This is a function of not only styles, but also the chemical composition of the clay of the region. Minerals like iron and magnesium fuse with the clay to provide different colors and surface textures, and combine with other factors like the type of wood used to fire a kiln to provide a unique style. Some of these styles are more porous, others are smoother, lending themselves to glazing.

Even from within the same region, mountain clay and rice-field clay give rise to different qualities (see Clay for more). The kama (kilns) within which the pieces are fired are vastly different as well. There are tall, climbing, multi-chambered kilns known as "noborigama," and there are also simpler, single-chambered kilns known as "anagama." (see Kilns for more) Some artists fire pieces for only a few days, and some fire pieces for as long as several weeks. The interaction of the ash from the wood used as fuel and the clay gives rise to the various characteristic appearances (see Glazes and Keshiki). Most of these will change color to some degree as they are used, as water and other elements impart subtle chemical reactions.