FEATURE STORY
-- Musée Tomo Museum --
Located behind Okura Hotel
Toranomon 4-1-35, Tokyo
TEL: 03-5733-5131

Below story is extended version of article
that appeared in The Japan Times (May 14, 2003)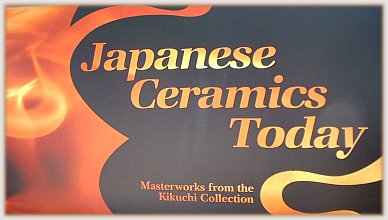 17 Photos Below - Click thumbnails to see larger photos

It was twenty years ago today that the famous Kikuchi Collection of Modern Japanese Ceramics was shown to "smashing" reviews at the Smithsonian Institute in Washington D.C., and also at the Victoria and Albert Museum in London. The 300-piece collection sparked a great interest in modern and contemporary Japanese ceramics that continues to this day. The two exhibitions remain a milestone for 20th century Japanese ceramic art. For the past twenty years, though, the collection has been in storage or on display for Madame Kikuchi Tomo alone.

Well, that has all changed, as her fabulous new museum opened in Tokyo on April 20 (2003) and is appropriately named Musée Tomo. The inaugural exhibition is "Japanese Ceramics Today, Part 1" and it gives Japan its first look at the Kikuchi Collection. It's about time a museum opened in Tokyo devoted to modern and contemporary ceramic art, and I don't think anyone could have imagined a better venue than what Madam Kikuchi has created with her distinguished design team.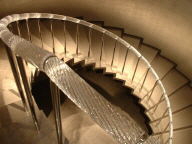 It is a spectacular setting that unfolds as if one was walking through a drama stage. As one enters the long hallway, a subdued mural done by the famed artist Shinoda Toko waits in the distance. Another Shinoda wall creation in silver tones escorts visitors down the spiral staircase; a sparkling glass banister by Yokoyama Naoto can be held onto if one feels overwhelmed.

And that's only the beginning. To set the tone for the exhibition, Madame Kikuchi has selected two Kyoto artist's works to show in the exhibition's prologue entrance. First is a set of three plates with wave designs by Kuriki Tatsusuke (made in 1982), and a tall sword celadon form titled "Blue Wolf" by Fukami Sueharu (1998).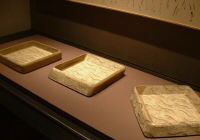 (L) Work by Kuriki Tatsusuke; (R) Work by Fukami Sueharu
Aha, the perceptive reader may be asking why such a late piece would be in an exhibition meant to restage the 1983 overseas debut. According to museum curator Hanazato Mari, Madame Kikuchi has continued collecting and wanted to show the depth of her collection as it has grown over the years. She has added works by Yagi Kazuo, Fukami and Kuriki, Ogawa Machiko, Kakurezaki Ryuichi and Koike Shoko, among others.

The current exhibition is set on seven stages:
Clay and Fire
Pattern
Come to Life
The Reach of Color
The Essence of Ceramics
Form's Pursuits
Meditation
It highlights 100 works by 69 artists, of which 59 were shown in 1983. Now the visitor is treated to 41 new works added to the collection. As with any collection, regardless of the owner, it should evolve over time, as Madame Kikuchi understands. Most of the 59 works date from between 1975 and 1982. Being so, as with the Weyerhaeuser Collection that recently toured the US (Shaped with a Passion), there are the works that take one's breath away and others that are a bit lackluster. The Weyerhaeuser Collection is a time capsule, while Madame Kikuchi has had the luxury to expand the depth of her collection.

Acquiring works at any given point in time is all fate, or as the Japanese say "de-ai." I've often heard collectors here say that everything boils down to de-ai. That being said, I'd like to introduce some of the standouts in the Kikuchi Collection.

The first room highlights some yakishime works and ash-glazed forms by Ohira Kazumasa (1981) and Kakurezaki Ryuichi (1999), and a large Tokoname plate by Takeuchi Kimiaki (1980).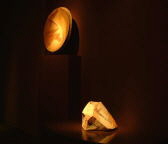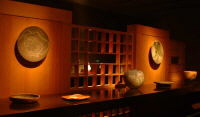 (L) Plate by Kakurezaki Ryuichi, Lower piece by Ohira Kazumasa
(R) Large Tokoname plate by Takeuchi Kimiaki
Winding through the display one comes across surprises at every turn. In the second display-stage, one is met by a wall of platters and plates -- breathtaking in its own right.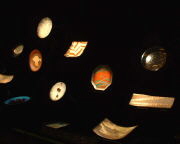 But what waits against the opposite wall is surreal. Out of a dark recess a nimbus radiates. It is in fact a rare Beni-Shino platter with a grass design by Kato Tokuro circa 1955-63. When I viewed it I was speechless. I have never seen any other ceramic work so dramatically displayed in my twenty years of viewing. It is the showstopper without a doubt.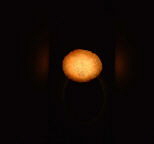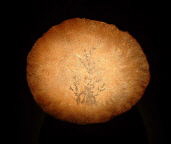 Click to see larger images - Platter by Kato Tokuro
The wall of 20 plates-platters had works by Shimaoka Tatsuzo (1972 - boring), Tokuda Yasokichi (1981 - splendid), Tamura Koichi (1978 - refined), Takauchi Shugo (1982 - rich), and Wada Morihiro (1987 - perfection). Around another corner one is greeted by a brilliant gold-leaf jar with circles (1980) by Ono Hakuko, followed by other works in porcelain.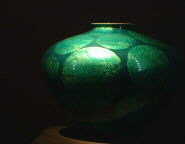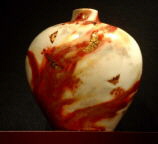 (L) Ono Hakuko (R) Fujimoto Yoshimichi
They range from the eerie masterpiece jar with flames and moths (1990) by Fujimoto Yoshimichi (see above photo) to an ornamental vase with red and green overglaze designs (1982) by Kawamoto Goro.

A special sand display area was created to showcase three decaying bibles (1981) by Araki Takako. When viewing Araki's bibles on a regular gallery pedestal in the past, I was moved by the thoughts and sense that went into the work. In the Musée Tomo, Araki's concept of time and degeneracy unearthed in her haunting bibles has at last been displayed in the proper light. Stoically locked in a glass case next to Araki's installation is a celadon vase (1975) by Okabe Mineo.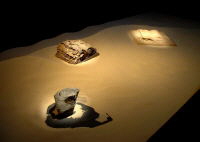 (L) Araki Takako's bibles (R) Celadon vase by Okabe Mineo
The depth of the glaze is not as brilliant as some of the works in Okabe's later years, and I was a bit disappointed that this was the only Okabe on display. Araki also shared the room with a Yagi masterpiece (1978) titled "'Tide," and another Kuriki work dating from 1975 ("Walking Circle") that delighted the senses.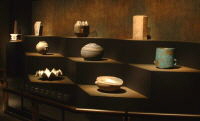 (L) Kuriki Tatsusuke's Walking Circle
(R) Pieces by Kamoda, Miura, Morino and Miwa
Another corner is navigated, whereupon one finds a Tsuji Seimei case with three Shigaraki cans and a walking cane and bowler from 1982. One more ceramic wall appears (see above photo), but this time with jars and sculptures that include works by Kamoda Shoji (1979 - divine), Miura Koheiji (1975 - eclectic), Morino Taimei (1981- sophisticated) and Miwa Ryosaku (1982 - contrived). Also in the room were mesmerizing works by Kawase Shinobu and Fujihira Shin.

I thought this was the end of the exhibit, as I was met by a dark passage. Yet a small room with a Suzuki Osamu Shino covered jar (1975) at the entrance appeared around the corner (see photo below). This is the final scene of the "Ceramic Play"and the "Meditation" phase. As if walking on air, I entered the room and introspectively gazed upon a hushed painting by Kazuki Yasuo under which sat a black work by Yagi; it's titled "Zone." I felt as if in a dream world.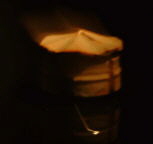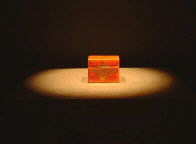 (L) Jar by Suzuki Osamu (R) Small box by Tomimoto Kenkichi
Nothing has ever been seen like this in Japan and I had to go back a second time. The first time I had the good fortune to meet the designer genius Richard Molinaroli (www.mfmdesign.com). He has worked on past Madame Kikuchi exhibitions, including the Smithsonian exhibit, and others for Raku Kichizaemon, Suzuki Osamu, and Fujimoto Yoshimichi. Mr. Molinaroli worked on the design for about three years, along with George Sexton Associates, to achieve the spectacular lighting.

Many of the artists Madame Kikuchi collected all those years ago are now leaders in their respective genres. Others are Living National Treasures, while some have past on long ago, yet the beauty of their work remains, such as Tomimoto Kenkichi's small covered box from 1961-62; it is the last piece in the exhibition (see photo above).

It was with thoughtful senses that Madame Kikuchi introduced a whole new world for so many ceramic enthusiasts and now, finally, there is a permanent place in Japan where we all can share her vision and passion.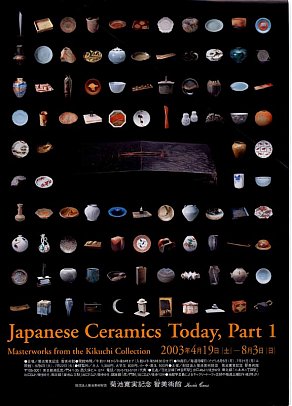 Flyer from the Museum
LEARN MORE
More can be learned about many of the potters mentioned above by visiting the e-yakimono.net Who's Who page.