Travelogue Menu




JUNE 6, 2002
When Friends Turn to Pottery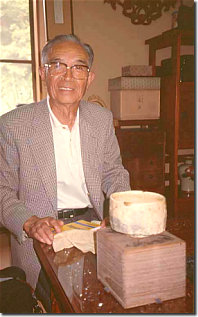 Dedicated to Inoue-san
As I boarded the shinkansen (bullet train) in Mishima -- to travel to Nagoya to meet Mr. Inoue, my 87-year-old friend of 10 years -- I had an annoying lump in my stomach. It wasn't any nervousness about negotiating the shinkansen (it was a straight shot to Nagoya). Nor was it gastronomic in nature, for last night's sushi feast and microbrew adventure (see story #2) was still making my mouth water with delight.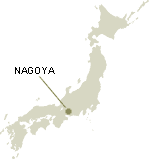 No, this anxious feeling from deep inside me was more self-oriented, self-incriminating almost. "Why?" I heard myself asking, "why did I invite myself to visit Mr. Inoue for an overnight. After all, he is 87. How inconsiderate of me. I should have arranged for my own accommodation and just visited for a few hours, so as not to inconvenience Mr. and Mrs. Inoue."

"And my own Japanese language skills are certainly no better now -- perhaps worse -- than they were the last time I visited here in 1999. How self-centered of me to assume that, in their mid-eighties, they are still willing to struggle through the difficulties of "Japanese-English-Dictionary-conversations!"

"What was I thinking when I obligated them to a day and a half of hosting me? What an imposition." I sensed a recognizable dread within myself -- that peculiar kind of dread (perhaps you know the taste of it) which accompanies the sudden and awful realization that "the plan" (that had naively seemed a sound and sensible idea until this very moment) has just ambushed you with its obvious foibles! I was very suddenly full of self-doubt.

But it was too late to change course. Mr. Inoue had probably already purchased a ticket just so he could be up on the platform to meet me as I descend from car #6. And sure enough, there he was. "Follow me," he said.

My misgivings were not at all allayed as I followed him, wordless, through the Nagoya Station, and out onto the street. "Eating", he motioned with his hand to his mouth, and set out at a pace far too nimble for his 87 years, with me struggling to keep up, carrying all the luggage that was to accompany me through two weeks of travel. Still no talking.

At the table in the restaurant, while we silently waited for our food, I pulled out my photo album, sure that this would break the ice, and allowing me to practice my well-rehearsed and memorized "captions."

"Let's see. These are our sons, Scott and Brent, in the marching band, and here is the elementary school where my wife Jolene teaches, here's the water garden at our home, that's the church we attend, and here, these are works from my most recent 8-day wood firing." Yet at this, the tension seemed to grow even thicker -- or was it my thick tongue and my poor Japanese pronunciation? The food arrived. We ate in silence. "What have I done? What have I set myself up for?" I wondered. "Is Inoue-san feeling some of the same misgivings as well?"

As we left the restaurant, Inoue-san indicated that we would be visiting a nearby exhibition. He explained that he did not know the potter, but that we would go to the exhibition anyway. We walked to the gallery where Ishida Tosyun was having her exhibition of wood-fired works. With the pots around and between us, suddenly we both began to relax. Our shared "ceramic" vocabulary (in both Japanese and English) began to fill the gaps that our shared "social" vocabulary had not been able to. Mr. Inoue's shoulders started to relax, and the knot in my stomach eased. We smiled and laughed, touched pots and understood what each other was thinking. We had tea and sweets. "Do you want to ask her anything?" asked Inoue-san. And for 20 minutes we had an engaging (albeit dictionary-aided) conversation about pottery-making methods, clay bodies, kiln designs, and firing approaches.

After we left the exhibition and while walking in downtown Nagoya, almost as an afterthought, Inoue-san pointed to a major department store and inquired "Shall we see the china department?" (Ah, the ceramics in a department store gallery, I thought.)

Inside, on the sixth floor, there at first seemed to be no gallery at all. But after a bit of walking we came to a small alcove where some fine pots came into view: immediately we both recognized Isezaki Jun's work, and pieces by Kato Shigetaka and Kato Shuunto (Mr. Inoue, in fact, had introduced me to the latter two potters when I last visited in 1999). Some fine old "horse-eye" plates came into view. "Oh, look at this," said Mr. Inoue, as he pointed to a remarkable yellow Seto bowl made by Kato Tokuro (1898 - 1985).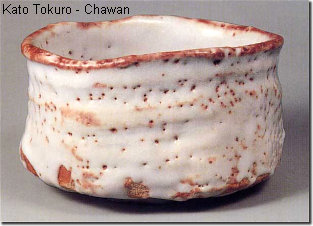 Photo courtesy of Kato Tokuro Exhibition Catalog
First published in Chunichi Shinbun-sha, 1997
A young salesman came to greet us. I ventured a question about being able to see the foot of the horse-eye plate. He happily obliged. Then I asked about seeing the foot of the Kato Tokuro chawan (which was behind glass). After a little hesitation, we were shown the beautifully trimmed foot.

At that moment, the manager of the department came into view and we introduced ourselves. He seemed quite a bit curious at this American's interest in the foot of a teabowl. "Would you like to see more of Kato's works?" he asked. "Here, come with me, let me show you."

As we were led to yet another more-secluded room, I caught Mr. Inoue's eye. It was sparkling! And the corners of his mouth could not control the smile that was breaking out. I suspected that we were both remembering the magic that had happened to us in 1999 -- the visits to Kato Shigetaka, Kato Shuunto, and Kato Takuo (recognized as a Ningen Kokuho, or Living National Treasure). It seemed that when we sought to surround ourselves with pottery, some "ceramic magic" began to happen.

After we were seated, cupboards were opened, and the dark age-stained palomia boxes began to be unpacked. We were treated to four chawan by Kato Tokuro (one example each of Shino, Gray Shino, Black Seto, and Karatsu). A one-person show for the two of us! The conversation became even more relaxed surrounding these exuberant and extraordinary pots. The gray Shino piece had the most remarkable foot! The viewing and handling flowed into "maatcha" and sweets and barley tea, then more pots, images of the American's pots for the manager, more conversation, more magic.
This, I thought to myself, is why I dared to suggest to Inoue-san that we spend some time together, and this is why, I continued musing -- despite the gulf in language, age and culture - this is why Inoue-san had said yes. Perhaps we had both been remembering the captivating moments of 1999 and had intuitively known that if we surrounded ourselves with pottery, that it might happen again.

That evening in Inoue-san's home, we shared "maatcha" from a chawan made by Hineno Sakuzo -- the teabowl had been a favorite of Mr. Inoue's father. We also drank from a 100-year-old Raku chawan.

And the next day we visited Tsukamoto Mitsuru, who works in exquisite celadon-glazed porcelains. Mitsuru-san is the son of Tsukamoto Kaiji, who in 1983 became a Ningen Kokuho, and for whom Mr. Inoue's father, Setsuzo-san, worked as designer and mold-maker for decades. We had the opportunity to see some of Tsukamoto Kaiji's original designs (deep-blue celadons that were remarkably intense!), and some of Tsukamoto Mitsuru's softer, more-subdued celadon works.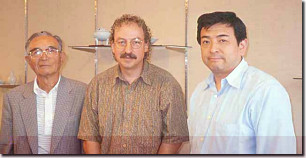 Inoue-san, Dick Lehman, and Tsukamoto Mitsuru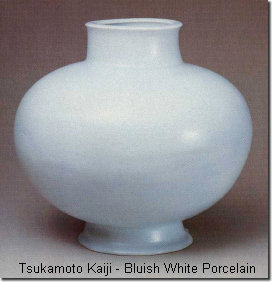 Photo courtesy of Japan Ceramic Art Exhibition Catalog 1985
Originally published by Mainichi Shinbun-sha
And as good luck would have it, some of the designs of Mr. Inoue's father were still being produced. It seemed only right that in this spellbinding moment I should purchase one of these small pieces, tying together symbolically the life work of Inoue-san's father, my friendship with Mr. Inoue, and the father-son team of Ningen Kokuho fame. As I attempted to purchase the piece I heard these words from Tsukamoto Mitsuru: "Oh, please, take this as a gift -- this will be important to you." He knew.

The yakishime guinomi that I left with Tsukamoto-san will not likely mean as much to him as his piece will mean to me. But I am so grateful for the wonderful exchange.

But Mr. Inoue was not finished. The afternoon included a visit to Suzuki Osamu, current Ningen Kokuho in the Shino tradition. Mr. Inoue's father, and Suzuki's father, it turned out, had been close friends. The remarkable kindness of both Mr. Inoue and Mr. Suzuki capped another unforgettable visit to Nagoya. For more about Suzuki Osamu, please click here.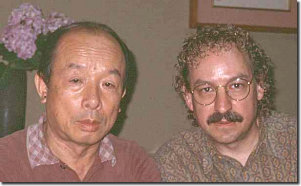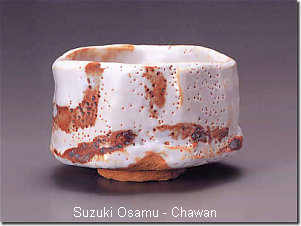 As I boarded the train at the station later that afternoon -- now heading for Okayama -- the nervous stomach lump was long-gone. And I marveled at the remarkable friendship, the wonderfully improbable happenings and the sheer magic that can occur when two people of different generations, cultures, and languages share a mutual love of fine pottery.
Dick Lehman
Copyright July 2002
All rights reserved