Travelogue Menu




JUNE 4, 2002
An 11-Course Meal, Mishima Style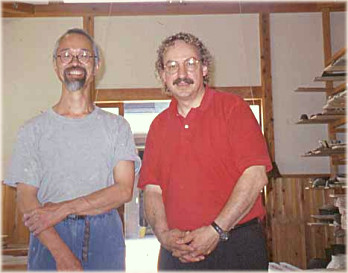 Kohiki Potter Hanaoka Yutaka and Dick Lehman
By good fortune, I arrived at the Kyoto Station at just the right time to catch the Hikari Super Express Train to Mishima. I arrived at the Mishima Station at about 4 pm, made a phone call to Robert Yellin, and within a few minutes we were walking back to his E-Yakimono.Net office. While Robert completed some end-of-the-day work, I had a wonderful hour to begin to peruse his extensive library, and handle the many pots that, up to now, I've only seen as images on Robert's japanesepottery.com site and e-yakimono.net (the site you are now viewing). It was a generous visual feast, and a wonderful initiation to my time in Mishima. After an hour we walked less than half a block to continue our feast (Course #2), this time at a neighborhood restaurant, where choosing from the day's specialties was as easy as selecting from the freshly made daily entrees positioned in generous bowls on the bar in front of our seats. And what a timely evening to have been "in the neighborhood" -- as it was the night of the Japan/Portugal World Cup Soccer game. The delightfully raucous crowd seemed a warm welcome to the neighborhood, even though our host behind the counter felt the need to apologize for their behavior. "They become like children again," she nodded. I could only smile.
Later that night at his home, Robert introduced me to a significant portion of his collection of ochoko sake cups and tokkkuri sake bottles. The "meal" continued (Course #3) as we spent several hours learning to know (in the only real way that one can come to know these sake utensils) a significant number of these gems -- pouring and sipping with a certain restraint, but enjoying with abandon. I was particularly moved by the Furutani Michio and the Kakurezaki Ryuichi cups, which were sensitively bold and spiritual little works that spoke of more than sake -- works which told us about the life and heart and spirit of their makers.
The next morning (Course #4), we unpacked a new shipment of yellow Seto works that had just arrived at Robert's office, followed by a hour in the "back room" (Course #5) with permission to look through the stacks and stacks of paulownia-boxed pots, untying and retying the silk cords as a ritual pause between each delightful discovery.
After lunch we went to visit Hanaoka Yutaka (Course #6). Hanaoka is a potter who makes "kohiki" ware (dark iron-bearing clay, covered with white slip, and glazed with a clear glaze). For more on kohiki ware, please click here.
"I'm firing my strange anagama today," said Hanaoka. "But you may come for a visit." His "strange" anagama, as it turned out, was designed more like my own unconventional wood-fired kiln than any other kiln I have ever seen (see below photos). We shared a laugh when I showed him photos of my equally "strange" design. However, instead of using it for long 15-day "yakishime" firings as I have been doing, Hanaoka san was using his kiln for shorter firings, bringing the glazed pots to 1270 degrees centigrade in roughly 28 hours.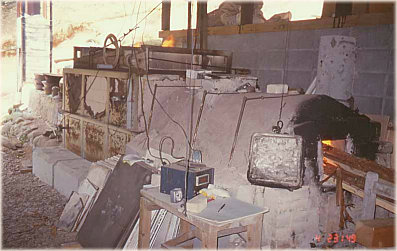 Hanaoka Yutaka's "Strange" Kiln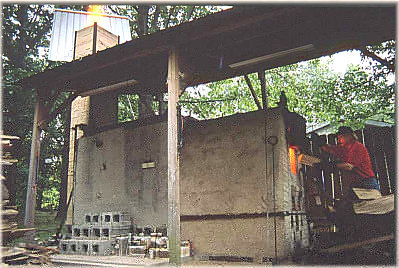 Dick Lehman's "Strange" Kiln
A large storeroom (Course #7) of these quiet and austere kohiki works was opened to us. I was nearly overwhelmed with the simplicity and quietness of a large body of these works, all located in one place. But I managed to select a few cups, a bowl, a tray and a sake server to take home with me. And since returning home and having begun to use these works, I have started (Course #8) to understand their understated genius. Can you imagine the sublime violet-colored reflected light emanating from the inside of one of these pearlescent little facetted cups when filled with my homemade gooseberry wine? Or just imagine the four-footed rectangular tray offering sauted zucchini flowers fresh from my garden. Allow yourself the enjoyable thought of homemade dandelion wine, the color of springtime, being poured from the sake server.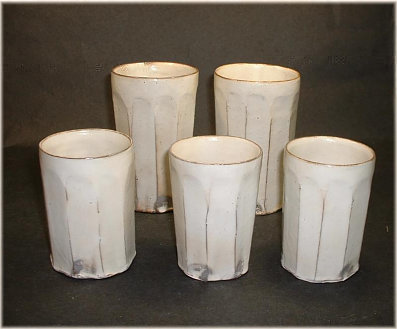 Five Kohiki Mentori Cups by Hanaoka Yutaka
Supper was portside in Numazu City (Course #9), at a sushi restaurant right across from the fish docks, where I ordered the local special (fish caught in local waters). Upon Robert's recommendation, I also had the freshest sushi I have ever eaten (Course #10). In almost less time than it takes to read this, the fish was caught with a net from the tank, scaled, filleted, de-boned, and the resulting filets cut into bite-size pieces. The remaining head/backbone/tail was skewered and bent into a basket shape and nestled on a snow-white pile of shredded daikon (radish), the bite-size morsels nestled into the "basket," and the plate set in front of me. As I touched it with my chopsticks to take my first bite, the nervous reflexes of the moments-ago-swimming-fish, caused its mouth and gill flaps to open and close, a behavior it "chose" to continue throughout the duration of my delicious feast!
The evening closed, and my time in Numazu came to an end with a visit to Brian Baird's Fishmarket Taproom (Course #11), a US-style microbrewery located portside in Numazu City. I'm not entirely sure that it was not the effects of my third round of Rising Sun Ale, but in that moment I had a hard time wrapping my mind around the idiosyncratic assemblage in which I found myself that evening -- me, an American potter in Japan to study Japanese ceramic traditions and to help edit a Japanese pottery text, sitting in a Japanese bar run by an American who brews Japanese beer in the Pacific-Northwest style (the brewery is modeled after a small brewery just 60 miles from my house in Indiana), while seated next to me is Robert Yellin, an American who lives in Japan, runs two web sites, writes for the Japan Times, and specializes in ceramic education. Together, here in this place after having eaten the freshest sushi ever consumed! A truly resplendent evening!
Dick Lehman
Copyright July 2002
All rights reserved