Bizen Unchained
Kakurezaki Ryuichi's vision goes beyond the confines of traditional forms or standard Momoyama-inspired tea shapes that abound in Bizen's traditional world. His vision has helped him create his own style of Bizen which I shall call Hesei Bizen.
He has given Bizen a fine-arts mentality. In the connoisseurs world of pottery collecting, pieces from the Momoyama period are most prized, for that was Japan's Renaissance years that saw the crystalliazation of many of Japan's artistic triumphs. In the world of Bizen, pieces from that period through the middle of the Edo-period are known as Ko-Bizen or "old Bizen" and are highly treasured.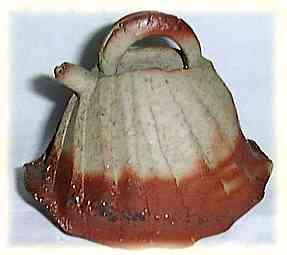 Kakurezaki has not ignored Ko-Bizen though, for to do so would be to lose perspective of what it means to be a Bizen ceramist and run the risk of cutting himself off from all the creative energy that Ko-Bizen pieces speak of. Kakurezaki has studied Ko-Bizen as well as many forms of contemporary art and has tapped into the "spirit" of Bizen without being a complacent participant. "Much of the beauty of Ko-Bizen derives from the clay that was used then. but that clay is not available now so why should I recreate classical forms with inferior materials. I might as well take a risk and create my own styles," Kakurezaki recently told me.

Kakurezaki's star began to rise around 1985 when he left his long apprenticeship with Jun Isezaki (Isezaki has been designated as an intangible cultural treasure of Okayama Prefecture), and established his own kiln that gave birth to his Heisei-Bizen. His thoroughly original designs have earned him success and a reputation rarely seen for a ceramic artist so soon after establishing one's own kiln. He has won numerous prestigious juried shows as well as the Japan Ceramic Society Prize.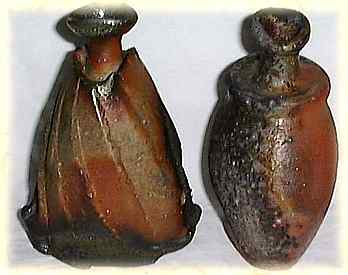 Kakurezaki can be likened to an outlaw. "I come from Nagasaki, far from Bizen, and that allowed me to express myself in more unchained ways. Looking from outside I am indeed a Bizen ceramic artist, but looking from within the tradition of Bizen, I do appear quite different."

His flared bases, three-legged vessals, and his sharply cut ridged vases, have all become his trademark. Already other Bizen potters are imitating his creative genius and that has sparked a new crop of up-and-coming potters not content with centuries-old forms.

One of Kakurezaki's more recent exhibitions was entitled "North Images" (Kakurezaki often gives his exhibitions a topical title, past ones being '"Phalanx" and "Moon Spot") and the thirty or so pieces in the "North Images" show were fired in four different-style kilns and thus exhibit a range of Bizen surface effects which include scarlet red "hidasuki" streaks as well as "goma" (sesame) brown-colored patches or drips where the pine wood fused and melted during the firing, and black spots where the ash turned to charcoal. Many of the pieces are open-mouthed with Kakurezaki's signature flared base and quite "bunny" looking ears angling off to one side.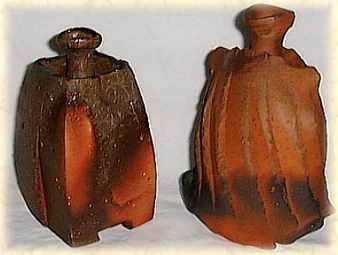 I recently caught up with him in Tokyo and he explained about the title of the "North Images" series. "We always think of directions as associated with images. The image of the south being warm, sunny, friendly and the north as cold, cloudy, and severe. I feel we need to look to the north now to find inspiration and change, both Japan itself and myself personally." Kakurezaki has already changed the world of Bizen with his "Hesei Bizen" and through these changes he will take Bizen into the next century, fresh and full of vitality.

LEARN MORE ABOUT THIS ARTIST