Kakurezaki Ryuichi Chawan Exhibition
Mitsukoshi Department Store, Art Gallery, Tokyo
November 29 through December 12, 2005
Everyone knew there would be a mad rush up to the sixth floor gallery. In years past injuries occurred as collectors raced up the stairs or threatened elevator girls -- "Close the damn doors!" -- to be the first one in the gallery to select a Kakurezaki Ryuichi work.

To ensure that no injuries -- or lawsuits -- would occur, the folks at Mitsukoshi decided that the normal procedure of first-come-first-serve would be tossed aside. Folks entered the gallery, were given a number, and had ten minutes to view the works; twenty-three chawan and close to 80 collectors all vying for a "wan."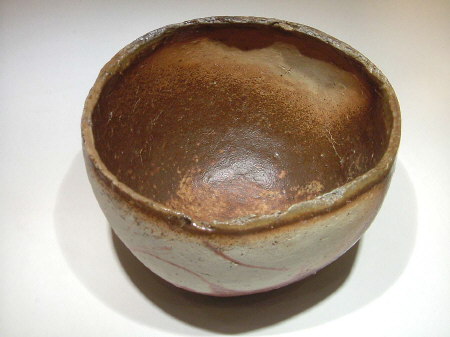 Chawan Mikomi by Kakurezaki Ryuichi
Works bound for exhibitions are usually the best of the best from each kiln and often potters hoard those for special exhibits. This was the case for Kakurezaki's first-ever chawan-only exhibition where he kept some of the chawan "on ice" for five years. The most recent were fired this year.

Kakurezaki's chawan were either boldly cut or rounded in a Honami Koetsu fashion. The firings on all were superb, toasty brown goma, scorched black goma, rich hidasuki, the current rage (black Bizen), and all the other great yohen effects that Bizen is so well known for. Some even had a cobalt blue addition. (See the EY-Net Guidebook for more on glazes and techniques.) The majority of the chawan were in the Bizen realm, yet there was an Oribe-esque green glazed one as well as one silver glazed. A few limited sets included a chawan, a mizusashi, a chaire and a washi folding screen with Kakurezaki's calligraphy, one showing an angama.

As with all of his exhibitions, the display was specially designed with an exceptional ambience that highlighted all the chawan in the main display window. Yes, unfortunately all the chawan were in window cases, which was very cruel as no one could handle the chawan! No one could check out the kodai, the inside mikomi, the balance -- oh so cruel. Not even those who bought pieces. Hmmmm. I'm still pondering as to why.

Needless to say, though, the exhibit sold out in the first hours. I know one collector who went and he was lucky to be the sixth person to select; he was all smiles as he showed me his chosen one this past weekend. For the rest of us, I hope the below photos suffice. Click any photo to start the slideshow.
LEARN MORE ABOUT THIS ARTIST