Kakurezaki Ryuichi
Review of Shinin Exhibition
Mitsukoshi Department Store, Tokyo
December 3 to 9, 2002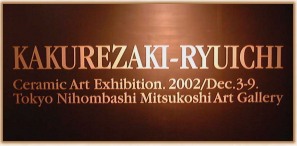 Rarely does Mitsukoshi, or any department store for that matter, allow an artist to set up an exhibition room with their own installation for showing works. Most department store "galleries" are just boring stuffy rooms with counters and a few chairs -- no personality whatsoever. Like Japanese education it's a cookie-cutter formula -- one size fits all and no if, ands, or buts, if you want to exhibit. For many artists an exhibition at a top department store is a major thing and most would gladly accept -- even if it meant such a monotonous room.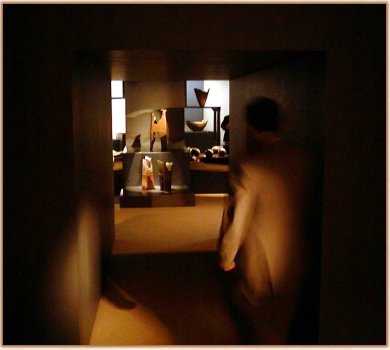 One then had to walk through a dark tunnel
to enter the main viewing area
Yet, as with many aspects of Japanese culture, there is always a case-by-case stance, the honne - tatemae aspect of Japanese society. So it was of no surprise that Mitsukoshi did allow Bizen's Kakurezaki Ryuichi to set up the gallery in any fashion he wanted. Indeed, most galleries in Japan would jump over Mt. Fuji to host a Kakurezaki exhibition. Why would they leap so high? The simple reason being that Kakurezaki is, beyond any shadow of a doubt, one of the most brilliant ceramic artists in Japan today.

Even though he works in Bizen he is not bound to its long tradition -- but what is tradition anyway? A blind following of ancient ways or an evolution of thought and forms? Both have their pros and cons and I won't get into them now -- all that needs to be said is this ceramic artist is stretching the identity and boundaries for what Bizen is, and will be defined as, all the while very much respecting Bizen.

The exhibition space -- black. The sign was all that stood out as one approached the entrance (see photo at top of page). It was like walking into a haunted house of pots. The reception desk was on the right with a few ash-glazed bowls -- the first of his I've ever seen -- under a spotlight.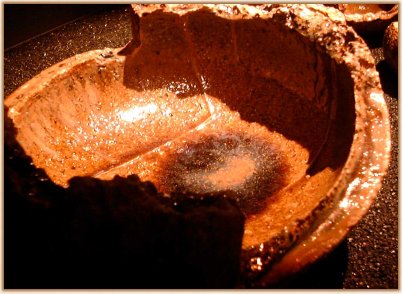 Above and Below - Ash-glazed bowls by Kakurezaki Ryuichi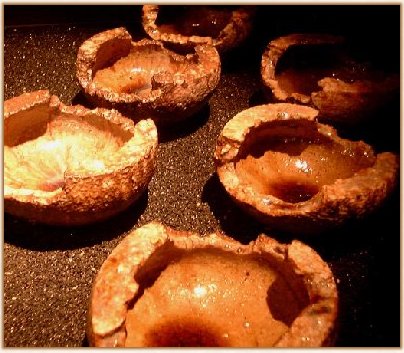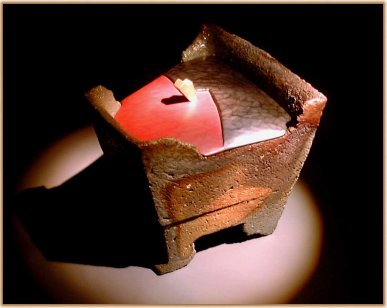 There was one recess in the tunnel where gloriously sat
the most wonderful mizusashi (fresh-water jar) with
a light black/red lacquer lid. It hinted at the forms
that waited as one exited the tunnel.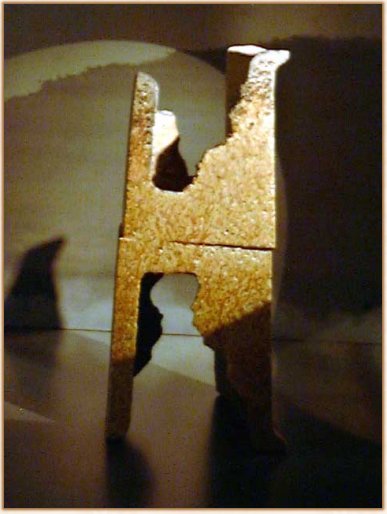 Feature work by Kakurezaki Ryuichi
One was met out of the darkness by a large tower form
that had two spaces on the upper and lower halves;
saw-edged lines added tension and balanced with the smoother
outer border. It was almost reminiscent of ancient bronze works.
Kakurezaki often adds these jagged edges to even his smaller works, such as guinomi and tokkuri, of which there were none in this exhibition. The feature piece (shown above) hinted at the new forms Kakurezaki introduced at this exhibition, which he entitled Shinin (The Sound of No-Sound). "Shinin" is a term Kakurezaki made up and it is a play on words of sorts -- the other meaning is "to be impressed with what the gods have made."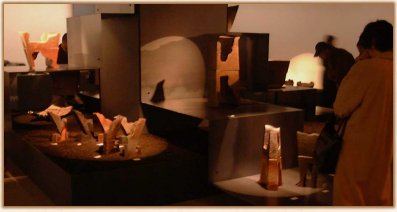 The main gallery had a large metal stage on which pieces were staggered,
some sitting on black crystal sand that was to be found around the room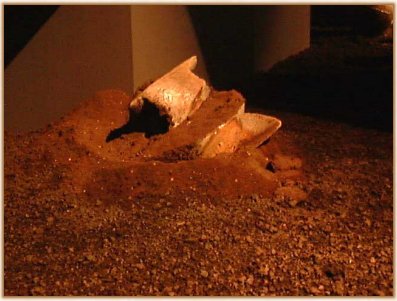 On the floor of the center stage was a pot that
appeared to be as it was in Kakurezaki's kiln after a firing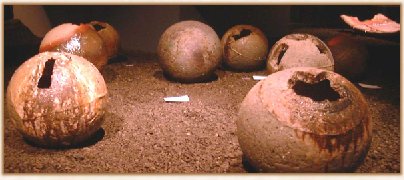 Walking around the stage a group of spheres appeared
-- all had eerie openings and different glaze effects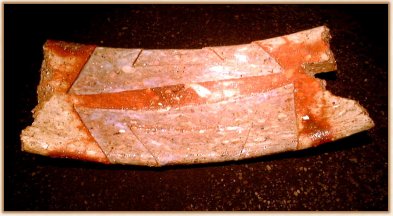 Just past them was a large nerikomi platter with a shellac-like
transparent glaze and red hidasuki flashes -- a brilliant piece.
(Hidasuki means scarlet red-fire cord markings)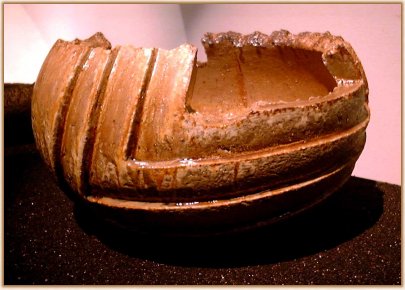 More interesting forms were everywhere -- a huge bowl with cut lines
around the surface (above photo), and another that looked like a
broken arrow, or a royal chair, or waffle cones (below photo)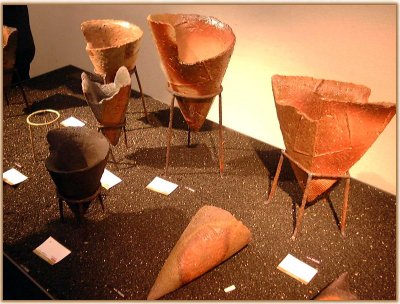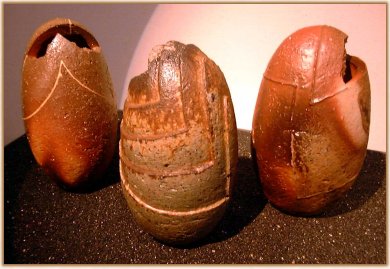 Some were lined up like Easter Island statues on the black sand,
while others sat like three pods right out of an Alien movie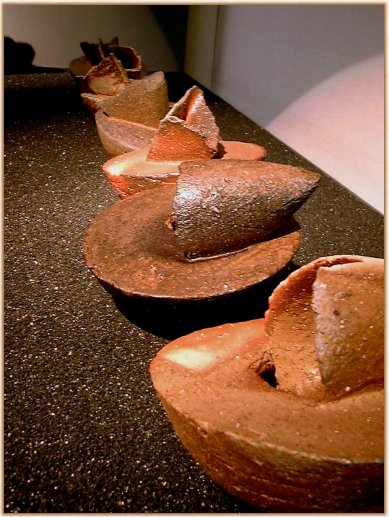 A turn of the head and I found a row of discs
all with differently angled attached tops
My imagination was running wild. So were those of the many visitors in the gallery with whom I talked with. We had all raced to Tokyo to be there at the opening and as the doors of the store swung open we sped for the elevator. However, a gallery staff member was blocking the entrance to Kakurezaki's room and wouldn't let anyone in! We had to line up and hear about how we would be allowed to enter and were cautioned to move slowly through the narrow tunnel. Any work would be sold to only those who had a placard but he also cautioned not to carry around the cards for too long. It was almost comical as he went over the rules. Maybe I was the only one who thought so, for most of the collectors there were very stern-faced. Boom, he let folks in and they obviously paid no attention to his warning as they sped through the tunnel. Many works, such as the mizusashi and feature tower, were sold within minutes. These collectors should be extremely satisfied, as they have acquired works that are defining part of Japan's ceramic landscape in the early 21st century.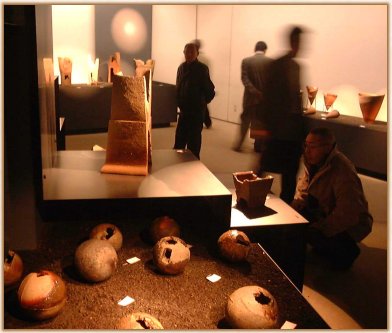 Click here to see more pieces by Kakurezaki from this exhibit

LEARN MORE ABOUT THIS ARTIST