The Road to Kasama
& the Ibaraki Ceramic Art Museum

Story by ROBERT YELLIN
for the Japan Times, March 12, 2003
Below story is extended, unedited version




PHOTO TOUR
Click here for 22 more photos from this exhibit
Japan has a fine railroad system that crisscrosses the country. From the speedy "bullet train," better known as the shinkansen, to small one-car country trains, traveling by train is often the most efficient and reliable way to get around. So with that in mind, it was an easy decision to leave my little Honda CR-X at home and hop on a train to Kasama, Ibaraki Prefecture.

Actually it was more than one train, as I took the shinkansen from Mishima to Tokyo, then the Yamanote Line from Tokyo to Ueno, where I changed to the Joban Line and their rapid express service to Tomobe Station, a mere 70 minutes away. All in all it was a three-hour journey.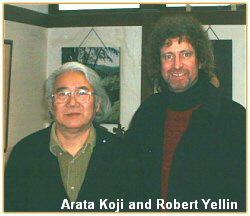 The main reason for going was, of course, to view some pottery. Kasama is one of the better-known styles from eastern Japan, and is usually classified as Mingei or Folk Craft ware. That was the root of this style, but oh how the times have changed. When asked to give a clear definition of what Kasama-yaki is, I don't think anyone can give a precise answer.

Matsui Kosei and Wada Morihiro both pot there for instance -- what resemblance does their work have to traditional Kasama-yaki? None, and of course that's fine, yet what is Kasama-yaki? When I posed the question to veteran Kasama potter Arata Koji, he gave the exact same answer that I tell groups: "There is nothing that can really be called pure Kasama-yaki these days."


In the past it was an easy reply. Large vats, grinding bowls, lidded jars, hibachi room heaters, and other daily utensils for a farming life (see photo at right; photo courtesy of Nihon Toji Taikei Vol. 27).

No tea utensils or fancy decorative items for the alcove -- just down and dirty sturdy wares that took a lot of inspiration from Shigaraki. Uh? Shigaraki? Well, it is a bit complicated, but in a nutshell here's the connection.

QUICK HISTORY OF KASAMA
Kasama came into being during the Anei Era (1772-81) of the Edo period. What happened was that one Kuno Hanemon was visited by the Shigaraki potter Chouemon at Hakoda Mura ("mura" means village). Many Shigaraki potters of that period traveled the country to show off their skills or simply to find work. For some reason, Chouemon left soon after and went to Mito to work for the Korakuen Kiln. After that Hanemon's adopted son, Sehee, received an introduction letter from Chouemon to give to the Shigaraki potter Kichisaburo, who in turn came to Hakoda Mura and helped fire the kiln that Chouemon built. This is said to be the beginning of what we call Kasama-yaki.

Now we find over two hundred potters using various clays and glazes that bare no resemblance to any of the old Kasama pots. For example, potter Arata Koji (see four photos below) uses a blend of Kasama and Shigaraki clays and creates intricate works with geometric patterns that remind me of constellations.
It is very detailed work that takes about one week to create, from throwing to the final carvings. He adds a shibui ("refined") green glaze by compressor and fires for about 30 hours in a gas or electric kiln. He also fires Tenmoku and Shino-esque works. Just because it's made in Kasama, can it be called Kasama-yaki? I don't think so.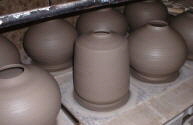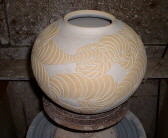 Works in progress by Arata Koji
A short walk from Arata-sensei's house is the pottery shop Katsura. It displays the works of dozens of Kasama potters and of ceramists from surrounding areas. The works are across the board -- yakishime high-fired unglazed stonewares, aka-e red painted and ash-glazed works, and of course the hero of Kasama, Living National Treasure Matsui Kosei's intricate and floral colored mosaic nerikomi works. They also have a wide selection of Ito Masahiko's works. Three photos from the Katsura Shop are presented below: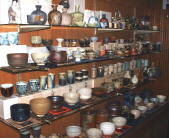 Above Left: Katsura Shop Display
Above Right: Pieces by Matsui Kosei
Below: Work by Ito Motohiko


Thing is none of these wares have anything to really do with traditional Kasama. Is this adding and expanding the world of Kasama or just totally changing its clay landscape? What an enigma Kasama has become. Yet, the same can be said for other potting areas such as Seto and Mashiko as well.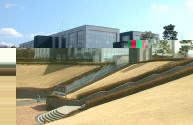 NOT TO BE MISSED
One "must stop" for any visitor to Kasama is the Ibaraki Ceramic Art Museum, the only prefectural ceramic museum in eastern Japan. It opened in the spring of 2000 and is nestled in the rolling hills of the Geijutsu no Mori (Art Forest). See bottom of this page for more resources about this museum, plus a photo tour of its inaugural exhibition.

When I visited, there was a special exhibition of 25 ceramic masters of western Japan, which ranged from the ornate and dazzling shell forms of Tomita Mikiko (see below photo) to the large and bold sculptural forms of Hagi's Kaneta Masanao. It is a very eclectic show, and in a way bizarre, as testified by the outlandish yellow works exhibited by Hinoda Takashi (see below photo).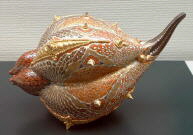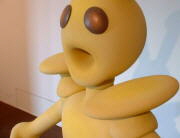 Left: Piece by Tomita Mikiko Right: Piece by Hinoda Takashi
One visitor said Hinoda must have made these works under the influence of magic mushrooms! Not sure about that, yet Hinoda's imagination was running wild, as was the science-fiction landscape of Matsumoto Hideo set on the floor, while Kawaguchi Jun's colorful porcelain spiral hung on the back wall (see below photo).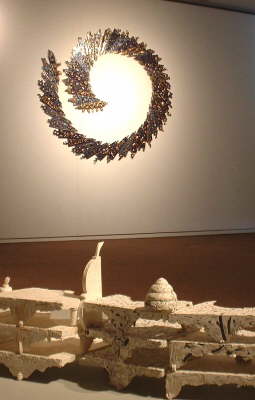 ABOVE
Top Spiral by Kawaguchi Jun
Lower Landscape by Matsumoto Hideo
BELOW
The spiked towers of artist Miwa Kazuhiko
were also in the psychedelic sphere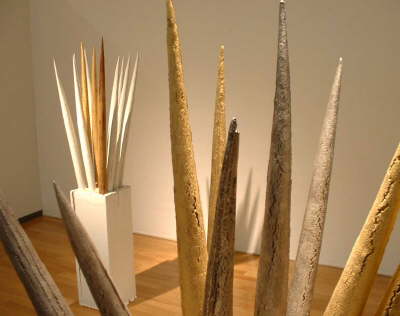 More staid works were from hakuji specialist Maeta Akihiro, the relaxing red jagged bowls of Imai Hyoe, and the refined designs from Inoue Shinichi. Other works I admired were Yanagihara Mutsuo's Silver Oribe pieces and Yoshikawa Masamichi's seihakuji plates and angled vessels. As a side note, Yanagihara was just awarded the prestigious Japan Ceramic Society's Gold Prize. The "regular" JCS award went to Kaneshige Yuho.

Others in the Ibaraki exhibition were Imaizumi Imaemon XlV, Kakurezaki Ryuichi, Kaneshige Kosuke, Takiguchi Kazuo, Tashima Etsuko, Toda Morinobu, Nakajima Hiroshi, Hayami Shiro, Fukushima Zenzo, Miwa Ryosaku, Mori Masahiro, Morino Akito and Taimei, and Yagi Akira. The exhibition ends on March 16, 2003.



The museum always has a standing exhibition of many LNT's works, along with special displays devoted to Ibaraki masters Matsui Kosei and Itaya Hazan. For more photos from the standing and special exhibition, please click here.

Special exhibitions are held four times a year. Strangely enough, only one room shows the history of Kasama-yaki and it is the smallest gallery in the museum -- there are only three actual works in the room.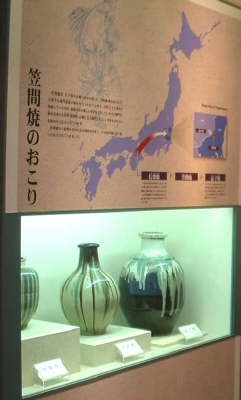 And get this, only one is Kasama-yaki! The other two are from Shigaraki and Mashiko to show the connection and similarity of style.

The museum is located at 2345 Kasama. I took a free city bus there from Tomobe Station and by car it's a ten-minute drive off the Kita-Kanto expressway's Tomobe exit. More information can be found at the bottom of this page.

A special treat for sake and beer lovers is not far away. On another recent Ibaraki visit, I was fortunate enough to stop by the Kiuchi Brewery. They make some of Japan's best sake and beer; both have won many awards, The brewery is approaching two centuries of operation and even though they are getting up there in years, they have an English web site!
---
LEARN MORE ABOUT KASAMA
LEARN MORE ABOUT IBARAKI'S CERAMIC SCENE
.